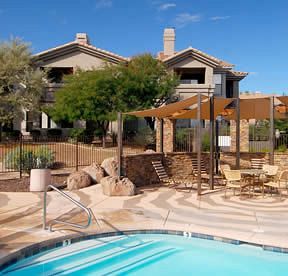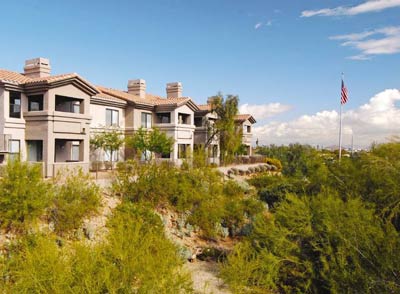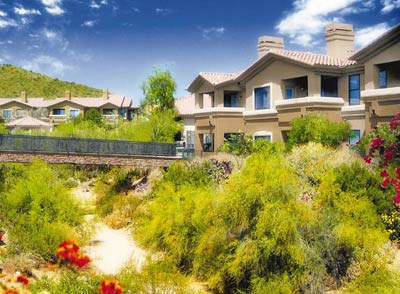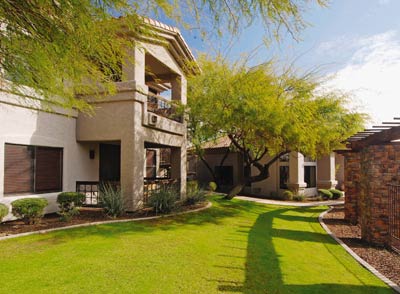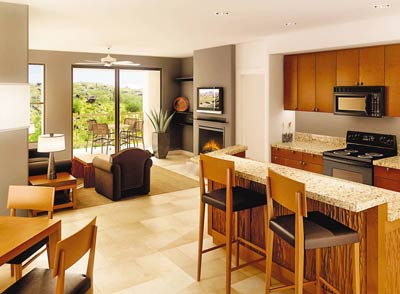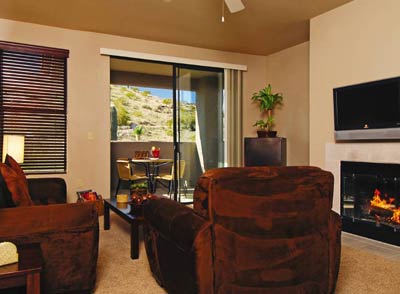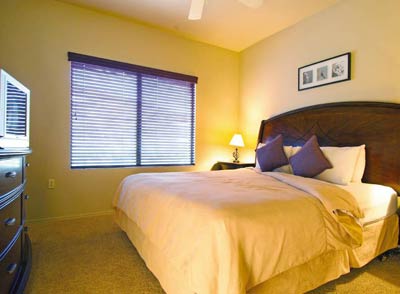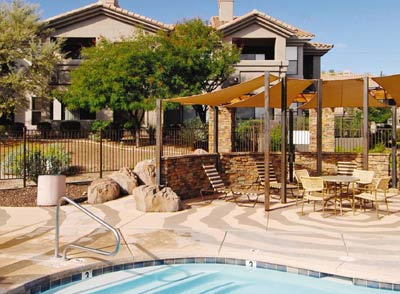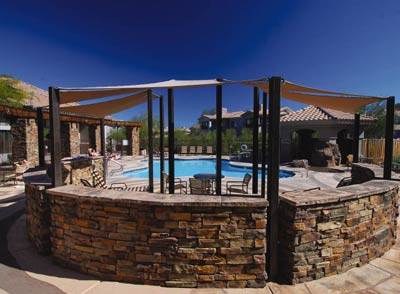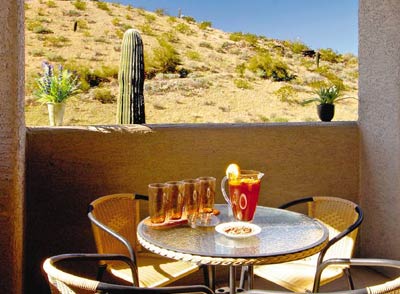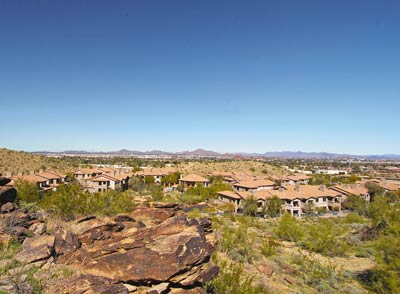 Worldmark Phoenix South Mountain Preserve Condo Vacation Rentals
The Worldmark Phoenix Resort at South Mountain Preserve is fully remodeled and all units completely refurbished, with work completed in February 2013. Recently acquired by Worldmark, the resort was formerly known as Raintree Desert Arroyo or Aristar.
Located in the midst of the Sonoran Desert, with access to the South Mountain Wilderness Preserve, this resort is a nature lover's paradise! Visit the nearby Desert Botanical Gardens or hike the nearby Apache Trail. The Red Rocks of Sedona and Montezuma Castle are just two hours away! And if you're looking for a great day trip just hop in the car and visit the majestic Grand Canyon, located approximately four hours from the resort.
Looking for something a little closer by? The city of Phoenix is filled with fun things to do. The Old Town Scottsdale Historic District is only 20 minutes away and features great shopping with local merchants and art galleries. You can also visit the Heard Museum founded in 1929, to learn more about the American Indian arts and culture or check out the Phoenix Zoo, just a short car ride away.
We know you'll love this beautiful oasis, with all the great comforts of home!
Condo Vacation Rental Availability at Worldmark Phoenix South Mountain Preserve
Greetings from Phoenix, Arizona, the sun and desert seeker mecca of the south. Whether you're here to walk the Apache Trail, peruse the Desert Botanical Gardens, shop in Old Town Scottsdale, or simply relax by the pool, we're sure you'll enjoy your stay at the beautiful WorldMark Phoenix South Mountain Preserve.
We offer mainly off-season (April through December) nightly and weekly rentals. Contact us by email with your desired dates and unit size/number of guests, and we will respond with a rate quote. For the lowest rates, please request Sunday through Thursday check-in days. Weekends and holidays are higher-priced.
High season availability: We may be able to obtain winter spring training season (January through March) space. Generally, weekends won't be available, but you can try.
Occupancy taxes and cleaning/housekeeping fees will be added to the prices.
Two night minimum for most reservations (up to 9 months from check-in date),
Please view photos at the bottom of this page or visit the Worldmark Resort website for more information and pictures.
The prices shown are the TOTAL prices. We impose NO additional charges (such as sales or lodging taxes, cleaning fees, deposits, booking fees, etc.). The price you see is the price you pay!
We have made renting a week fast, easy, and most importantly, safe! You won't be reading the numbers off your credit card to some stranger on the phone (who knows where those might end up?). Instead, your payment is handled discretely and securely by PayPal.
If you are already a PayPal member, you are familiar with the benefits of using PayPal to buy on the Internet. If you don't have a PayPal account, that's alright, you don't need one! PayPal's secure system allows you to use any major credit card to make your payment. There is no cost to you for using PayPal, and by using a credit card, your purchase is protected and your peace of mind assured.
So, go ahead, click here to check availability or to rent your weeks!
Unit Amenities
All of our Worldmark Phoenix South Mountain Preserve condo vacation rentals feature two bedrooms that sleep 6 people.  They provide a king bed in the master bedroom, either 1 queen bed (most villas) or 2 twin beds in the second bedroom (as units are normally assigned at check-in, guests will need to call the resort well before arrival and ask at that time if you need one or the other second bedroom arrangement).  There is also a queen sofa bed in the living area.
Other villa amenities include:
2 bathrooms
Fully equipped kitchen with full-sized refrigerator, range, oven, microwave and dishwasher
Air conditioning
Telephone
Washer and dryer
Cable TV with DVD player
Stereo with CD player
Hair dryer
Resort Amenities
Spring training (and all) guests at our Worldmark Phoenix South Mountain Preserve condo vacation rentals enjoy:
Outdoor swimming pool
Hot tub
Business center
Community barbecue area
Free internet access is available in the resort's business center
Covered parking with space for boats, RVs and trailers
Area Amenities
Worldmark Phoenix South Mountain Preserve is an excellent location for Cactus League MLB spring training baseball attendees.   You can view teams and schedules here.  Close by (within 30 minutes) are these teams:
Less than 10 minutes to Tempe Diablo Stadium, home to the Los Angeles (Anaheim) Angels
15 minutes to Phoenix Municipal Stadium, home to the Oakland A's (Athletics)
20 minutes to Scottsdale Stadium, home to the San Francisco Giants
20 minutes to Hohokam Stadium Park, home to the Chicago Cubs
25 minutes to Salt River Fields at Talking Stick, home to the Arizona Diamondbacks and the Colorado Rockies
25 minutes to Maryvale Baseball Park, home to the Milwaukee Brewers
The teams and stadiums are:
Chicago Cubs — Mesa — HoHoKam Park
Los Angeles Angels of Anaheim — Tempe Diablo Stadium
Milwaukee Brewers — Phoenix — Maryvale Baseball Park
Oakland Athletics — Phoenix Municipal Stadium
San Franciso Giants — Scottsdale Stadium
Arizona Diamondbacks — Scottsdale — Salt River Fields at Talking Stick
Colorado Rockies — Scottsdale — Salt River Fields at Talking Stick
Chicago White Sox — Glendale — Camelback Ranch
Los Angeles Dodgers — Glendale — Camelback Ranch
San Diego Padres — Peoria Sports Complex Stadium
Seattle Mariners — Peoria Sports Complex Stadium
Cincinnati Reds — Goodyear Ballpark
Cleveland Indians — Goodyear Ballpark
Kansas City Royals — Surprise Stadium
Texas Rangers — Surprise Stadium
The Apache Trail leads determined hikers deep into the wild of the Sonoran Desert, or for a more domesticated setting, unearth the native flora by a gentle stroll though the Desert Botanical Gardens. Discover some of Arizona's incredible sights such as the Red Rocks of Sedona, Montezuma Castle and one of the Seven Natural Wonders of the World: the Grand Canyon.
Closer to home, Old Town Scottsdale Historic District features eclectic shopping, unconventional art galleries, and quirky eateries. The Heard Museum, founded in 1929, is renowned as one of the best places to learn about American Indian arts and culture and, for a total change of scenery, downtown Phoenix, with it's myriad of entertainment, shopping and dining options is only fifteen minutes away. When you're ready to explore again try a desert jeep tour, a ride in a hot air balloon or a trip to the Phoenix Zoo! For a fun day at the baseball park, try Chase Field, home of the Arizona Diamondbacks, concerts and other sporting events.
Or just step outside of the resort to enjoy the South Mountain Preserve, over 16,000 acres and one of the largest municipal parks in the country. The park boasts 51 miles of primary trails for horseback riding, hiking and mountain biking.